Organisation
To ensure that our clients are not overburdened by unnecessary information, we employ an organizational structure whereby the Project Manager interfaces directly with the client's representative. Hence he co-ordinates the activities of all design consultants and reports straight to the client.
Over time, this has been found to be of immeasurable value. The scenario can be diagrammatically represented as follows: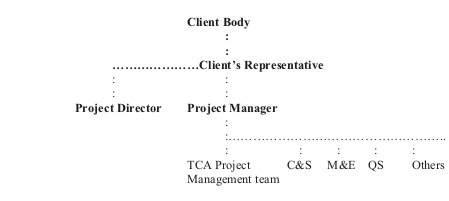 Furthermore, the need for lateral co-ordination at design level implies a management function, which could be provided by the Job Architect or Project Manager. This will depend on the size and complexity of the works.
Essentially, the Principal's function would be to bring to bear on the project his diverse experience in overall appreciation and development. This will be in addition to the foremost function of overall co-ordination and motivation. He will also receive and analyse reports that require top-level management decisions.